Halloween Ideas ~ Helping You Be All You Can Be!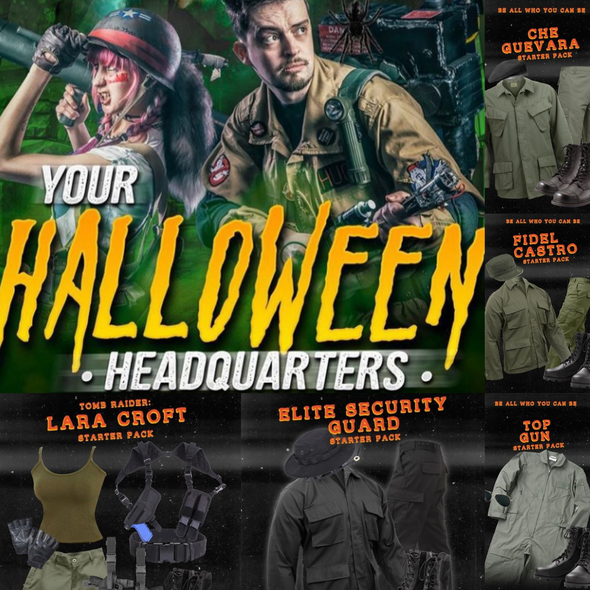 Welcome to camolots.com where we know how help you out the easy way...We have all sorts of vintage and new items for you to help you put your awesome outfit together!  We ran a Military vintage clothing store in the heart of NYC for over 20 years and let's just say we are the best at helping you add either one piece to your outfit or making the whole outfit from scratch! Visit this page for some great Ideas,  or the browse whole site because we can't fit all our awesome products on one page. 
Here are just some of our ideas:
TOP GUN FIGHTER PILOT - MAVERICK - 
TOP GUN MAVERICK - With Leather Jacket 
1. White sailor hat
2. White Sailor shirt/Middie
3. Black Sailor Shirt/Middie
4. Bandanna for a middie shirt to go around the back
5. Pin the bandanna in the front
6. Ribbons 
7. Medals
8. Patches 
9. Navy bell bottom jeans
10.Dog Tags
Patches 
Boy Scout shirt - stay tuned - they are on the way!!
1950'S MASH /FIDEL CASTRO PERSON
INDIANA JONES/ SAFARI PERSON/JUNGLE EXPLORER
Khaki shirt

Khaki /OD pants 

Whip or other leather type of whip

Web/Pistol belt

Canteen 

Sunglasses

Pith helmet

Leather helmet

Boots 

Knife

Boonie hat

Mountie Hat

Safari vest

Binoculars
SEXY LADY PILOT
Pilot jacket

Flightsuit

Desert  Boots

Aviator Sunglasses

Goggles

Dog tags

Patches
SEXY ARMY PERSON
Camo tank 

Booty shorts

Hot shorts

Mini skirt

Cut PT shirt

Bullet/SWAT belt

Pistol belt

Garrison/Army cap
OLYMPIC MEDAL WINNER
track suit

lots of medals

Phelps name tag which we have 

sneakers
Mental Institution Patient
Mental institution shirt

Handcuffs/leg shackles

Scrub bottoms
JAIL PERSON
Orange flight suit

Orange jail shirt

Leg shackles 

Hand write a number on the orange jail flightsuit – prison number

Skull mask

Boots
CONSTRUCTION WORKER

workman's shirt 

bdu shorts 

dickes pants

hard hat cheap

suspenders 

fingerless gloves

tactical belt

get a hammer from their house – put it in our tool belt or utility belts
BOMB DE-WIRER
fragmentation vest

gas mask 

flightsuit

black boots

helmet
Medical Person
Scrubs top/bottom

Surgical masks

Hospital gown
Lab coat

Medic pin/patch 

Goggles
Gloves (disposable/chemical)
Boots
Put blood on it to make it more scary!
OTHER IDEAS:
Security person with badges
NYPD person 
Police person with tactical shirts
Used car salesman
Hobo or hill billy
Farmer
Crossing guard 
Ghillie suits
Top chef
Fireman
Pilot stewardess
Kim Jong il – khaki jacket
Communist person
Rick Grimes (Walking Dead)
Kayne West
G.I. Joe
Rambo