Surplus Military Tents & Shelters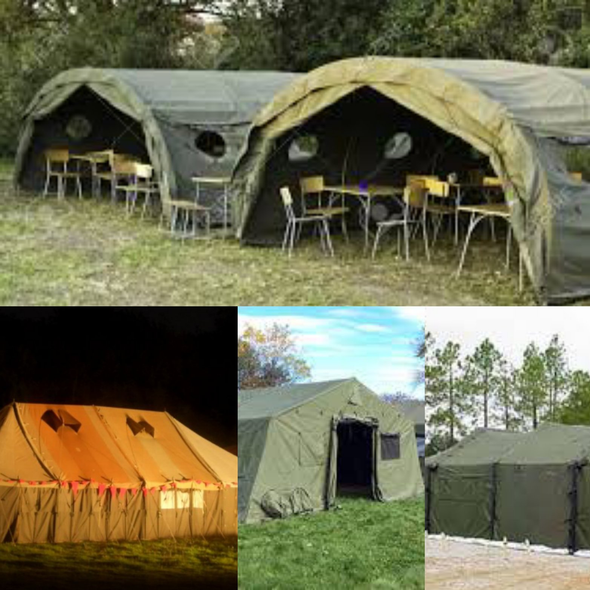 Check out our # 1 selling section while they are still in stock!
*** UPDATE APRIL 2022 ***
Please note that all tent orders may be 2 - 3 weeks delayed in shipping due to an increase of orders across the country. We are working hard to fulfill your orders and Thank you for your patience.
With everything re-opening across the world, we've been busy shipping these amazing Tents and Shelters for all kinds of outdoor activities! These shelters are great for weddings, reunions, company meetings or even permanent outdoor storage (a great options with the current costs of LUMBER)
We carry Small, Medium and LARGE Vintage and New Shelters, smaller 2 man Pup Tents, Military ponchos and poncho liners, GI issued tents (such as the USMC tent) and large group/cargo storing  containers!

All of our vintage and reconditioned tents undergo an extensive inspection upon ordering to ensure that it is in FULL working order and all parts and pieces to put the tent/structure together are together. Please allow extra shipping time for this purpose, as it can take 5 - 7 business days before shipping for this inspection. All payments must be made in full before the inspection process begins. Rush orders MAY be possible, depending on the size and newness of the item.
ALL TENTS ARE A HEAVY ITEM and are NOT INCLUDED in our FREE SHIPPING. Shipping costs are based off the total weight, dimensions and final destination of purchase and will be determined at time of purchase.